Pete Doree Presents… Stan and Jack!
I Tweet. I Tweet a lot. Over time, Twitter has provided me with exciting opportunities and contacts including the chance to review Pete Doree's fabulous tribute to comic book all-stars, Stan Lee and Jack Kirby. 
Hooked on the history
From the very first page, I was hooked on history. The book is cleverly introduced by Doree, channelling his inner Mark Evanier, the award-winning biographer of Kirby: King of Comics. Once president to a Los Angeles Comic Book Club (1966-69), Evanier soon became a production assistant to the King. His career now spans from comics to books, television to film and a fun Easter Egg can be found in panel five. Can you spot it?
Well done! Doree has depicted Evanier holding a copy of the Overstreet Comic Book Buyer's Guide for which he used to write a "Point of View" column for.
Stan and Jack find themselves a long way from home
With the turn of a page and in true Marvel Bullpen style, readers are invited to relax with Jack Kirby. However, a certain Stan 'the man' Lee has different ideas. The infamous battle of the Hulk and Aunt May is about to commence, and Stan needs 72 pages by Monday (wait… what back issue can I find this showdown in?!) Things go from bad to worse when what is described as a "zoom tube" opens in tribute to the New Gods. Without giving too much away, our dynamic duo find themselves in a world far from home, traipsing through landscapes inspired by the likes of Steve Ditko, Gil Kane and Wally Wood. So much for Jack's quiet day!
As a talented cast join Stan and Jack, readers can only wonder what has happened to this beloved crew. Could it be a plot ingeniously designed by the Distinguished Competition? Or have the creators of collectables been… collected?! Enter the talent-thieving plot parasite which is revealed to be an all-too-familiar threat in Stan and Jack #2.
Wrapping up, 'Stan and Jack' is a fun comic book series that those with an interest in the Silver Age will enjoy! Doree's obvious appreciation for the greatest team of comics shines through with Stan Lee's soapbox-style speech and Jack Kirby's all-too-cool persona. This is a homage that hits the jackpot so be sure to pick up your copies at petedoree.bigcartel.com or on Comichaus.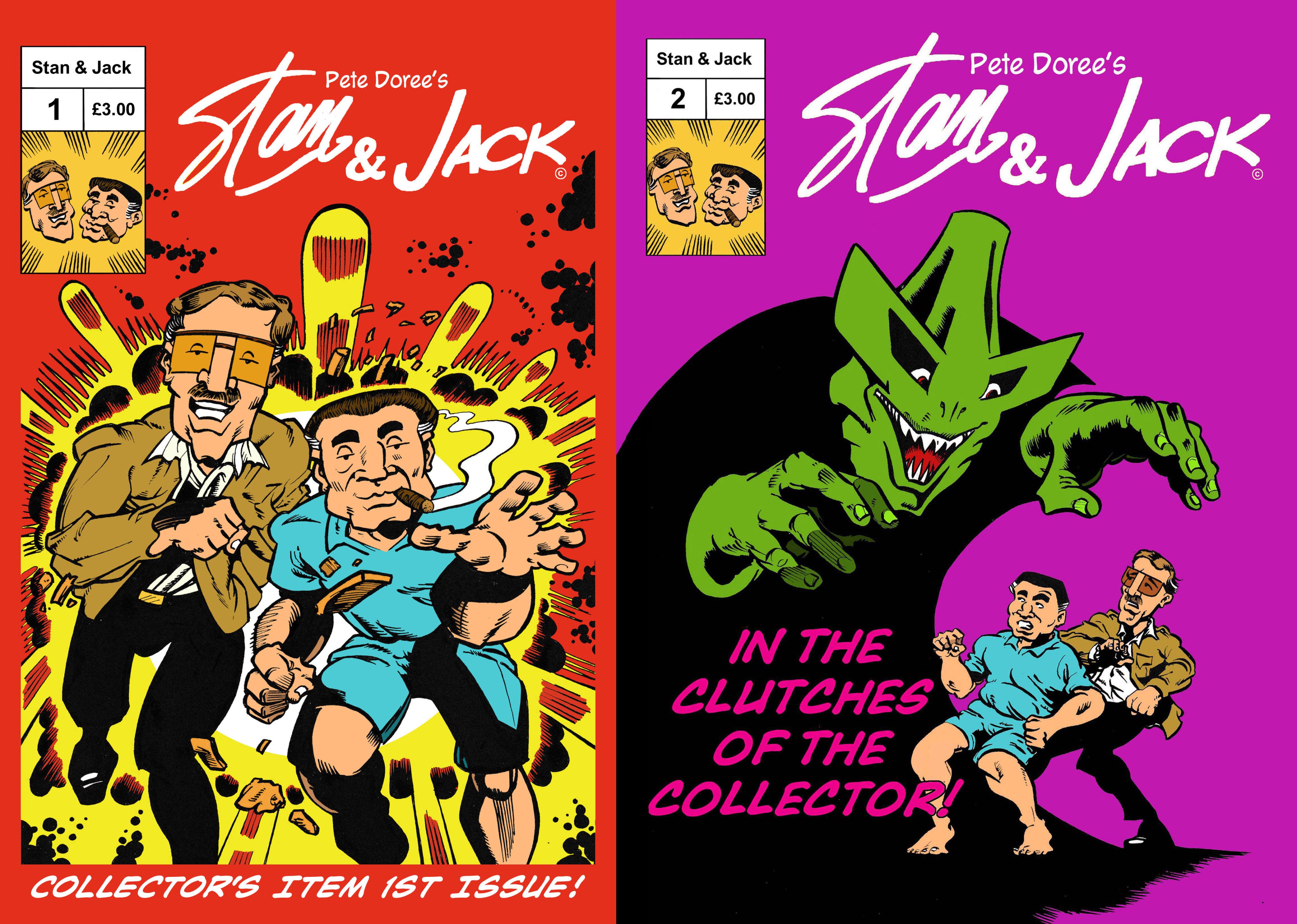 Questions for Pete Doree
'Stan and Jack' is a comic that is very much grounded in your love for comic books. As a reader, what is your secret origin story in discovering comics?
I discovered comics at the exact same time every other English fan of my generation did, which was October 1972, when the 1st issue of The Mighty World Of Marvel came out! Me & all my friends snapped it up, loved it, and were Marvelites & comic fans from that moment on. Then in 1973, the American Marvels started coming in, and there was no going back from that point. A fan for life! 
You describe yourself as a cartoonist and you have built up a good following on Twitter. How long have you been creating comics for?
I've really been creating comics most of my life, as we all have, I'm sure. When I was a kid, me and my two best friends David Holman & Sean Phillips ( Yep, THAT Sean Phillips ) did our own comic about ourselves having wacky adventures with our favourite superheroes. The strip was called The Kids From Rec. Road, and a couple of years ago, those two nagged me to bring it back, and people can see all the new instalments on my Instagram page. Since then, I've been in & out of comics and cartooning for most of my life, writing the odd script for Sean and publishing my own stuff when I can.
When designing 'Stan' and 'Jack' as caricatures, where did you draw inspiration from? Do you picture Jack Kirby as the blue-eyed Thing?
In terms of designing Stan & Jack, I'm really *trying* to be Mort Drucker. I describe the book like that old issue of What If? where the original Bullpen were the FF… but as if Mad Magazine had done it. In terms of writing them, Stan was easy, because obviously he talks like Stan, all pulse-pounding pronouncements, pilgrim! My version of Jack would always be good-naturedly exasperated by his Bullpen buddy, so a cross between Sgt. Fury and Ben Grimm seemed like the most fun way to go. My Jack says: 'Awright, awright, I'm all choked up!' a LOT. After that, the other characters all fell into place as exaggerated versions of themselves. I mean, obviously, Ditko would be shadowy and mysterious, and Vaughn Bode would be stoned but not as dumb as he makes out. It's a book that practically writes itself in that sense… 
Looking beyond your first story arc which sees the beloved Marvel Bullpen captured by the Collector, have you planned for future adventures featuring Stan and Jack?
I do indeed have future plans! Now that I've done the main Bullpen, I want to do everybody. I've nearly finished #4, where Jack gets stuck in the consciousness of Steve Gerber, in #5 everybody travels to the Hyborian Age, and Barry Windsor-Smith & Jon Buscema fight it out, and #6 will be a horror issue with Berni Wrightson called…. Giant-Size Stan-Thing! After that, who knows…? Whoever else I haven't done!
 

I thoroughly enjoyed 'Stan and Jack' #1-2 and I can see that a third issue is in the works. Can you give us a sneak peek? 
This splash page talks for itself!
Where can fans find more of you and your work?
People can find me on twitter obviously @petedoree on https://instagram.com/petedoree/ and you can buy the book at http://petedoree.bigcartel.com or at http://comichaus.com
All the Kids From Rec. Road strips are at my old blog http://kidsfromrecroad.blogspot.com or again, can be read on Instagram.
---
Supporting the Valks
Any and all commission paid to the Valks through affiliate schemes or patronage goes back into the site. It helps with the hosting costs and the running costs. Anything you purchase through our links does earn a small commission at no extra cost to you. The continued support of our wonderful community is what keeps us going, so thank you again and again!
If you would like to support the site you can join our Patreon here: https://www.patreon.com/thevalkyries
If you don't want to join up but want to support us, you can donate via Kofi here: https://ko-fi.com/I2I6FUC7
Want more from the Valks? You can listen to our podcast over on Spotify| Tunein| Stitcher| Google Podcasts| Apple Podcasts|